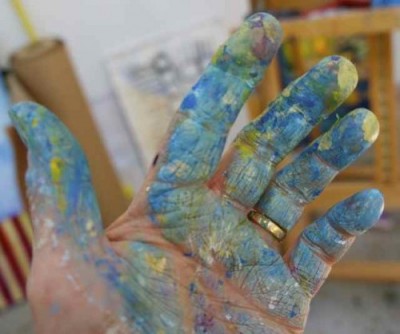 Woot! Had some quality PLAY time in the studio today. A landscape was calling my name.
Or maybe it was calling me names, I dunno. I had my R&B list playing and this is what happened.
Not a bad painting I guess. But not terribly exciting either. Ho-hum. Yawn. BTW, I think the photo is a bit heavy with the yellow. Can't say for sure because once I got this far I decided the R&B was too…safe for the mood I was in. Which was (drum roll) a badass paintin' mood.
AKA, a GREAT mood. Seriously, there is NOTHING better that a badass painting mood. Nothing. And if you've been reading this blog for any length of time (and I sincerely hope you have) you'll know that a great painting mood (GPM) calls for high octane rock. Da Boss. Loud.
And adventure. All GPMs call for risk taking. So while Da Boss was blasting working class angst and the speakers were positively vibrating with passion, I took the tube of white and squeezed it directly in the middle of the sky. And then I took my hands, one of which is pictured above, and smooshed that paint all over with my fingers.
Note to self: Next time wear gloves. Or barrier cream.
There was No. Going. Back. And I didn't want to, I was having waaaaaay too much fun.
This is where it stands now. It's a completely different painting, one that I personally find to be more interesting. Is it done? Maybe. Everything in the studio is fair game. Nothing is ever considered done–or safe–until it belongs to someone else. So there's a chance you'll see this one again…with more improvements.
So what do you think? I'd love to hear your thoughts in the comments below.
And meanwhile, remember this: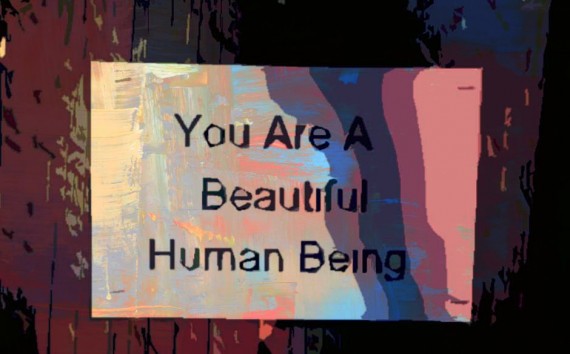 As always–