Oh my sweetums… I spent the weekend PLAYING WITH MUD! Big girl mud. Goes by the name of PAPERCRETE, a combination of concrete, all sorts of fibers, and other things like lizard eggs, dirt and eye of newt. Or something like that. People build HOUSES out of papercrete. It's like cement, only lighter. And it handles like clay. Sort of.
Look it up. LOTS of stuff on the intertubes about it.
I discovered this wonder material at a cement sculpture workshop taught by Deborah Bridges. Deborah is my latest ART CRUSH.
Oh my goodness, I am soooo in love with her work.
Especially this piece. The first time I saw this I WANTED it. Wanted it badly. Sorry about the crappy photo but I thought you should see it on the pedestal.
Here's a better view. And down below is a single orb with river rock. Do you see the possibilities here? Texture. Rock. Broken spheres…oh, I am swooning!
So when I heard Deborah was teaching a workshop how to make these I jumped up and down and did hand springs. Because oh, I sooo want me an orb.
We began Friday evening. Eight of us. A nice group of women all eager to mix up the magic potion and slather it on Pilates balls.
Mwah-ha-ha… You'd think women of a certain age would KNOW all about gravity. Really. But when mine kept slumping and sliding off the ball I was perplexed. Flummoxed. Confounded and confused.
There is a definite learning curve to all of this.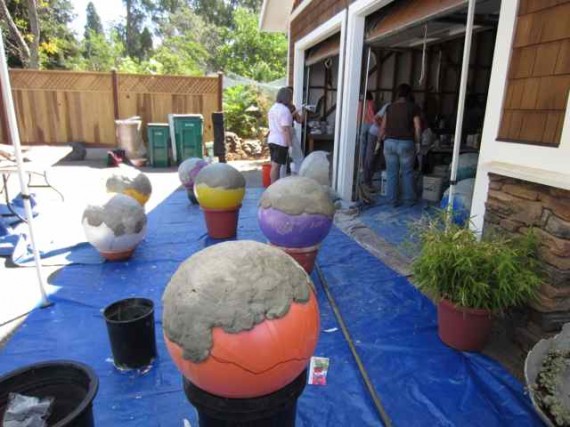 I finally got mine to stay on the ball. It stayed there all night and behaved itself until Saturday morning when I began working on it again. First it came off the ball before it was supposed to. But it looked really cool and I thought about leaving it just like that.
And then it broke. All by itself. With no help from anyone but the papercrete gods.
And it wasn't the only one. A few of us had orbs behaving badly. But I always tell my students, NOTHING you make is precious, it's all an experience. It's all about LEARNING.
Yeah, right…
So I climbed back on the arty saddle and did it again. We all did. Because when it comes down to it, it IS all about learning the material.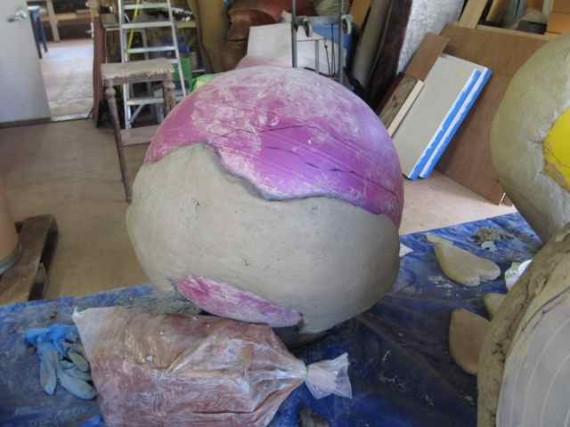 By Sunday afternoon I'd made two orbs, one bowl, a planter pot and whatever the broken piece from Saturday eventually morphs into. I learned my lesson, I left the orbs at Deborah's studio, still curing on the balls. I'll pick them up later in the week when they're good and hard. I'll let them cure another week or so before using concrete sealer and stain. Then I'll assemble them and find some plants I can't kill.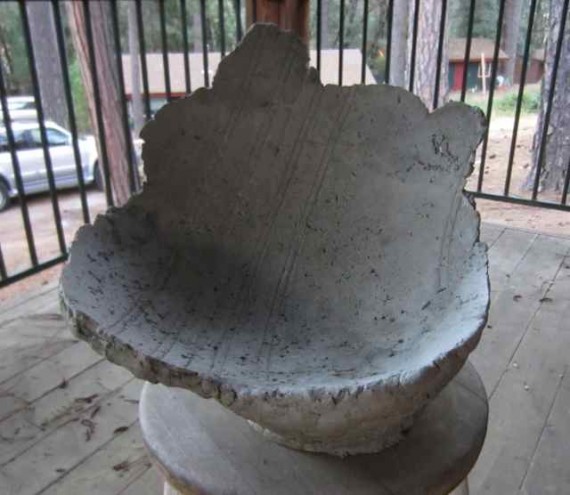 This is the broken piece. I think it's interesting. Don't know what I'm going to do with it but I'm sure I'll figure out something. Maybe some smaller river rock and a plant? Ha! I just noticed the lines from the ball.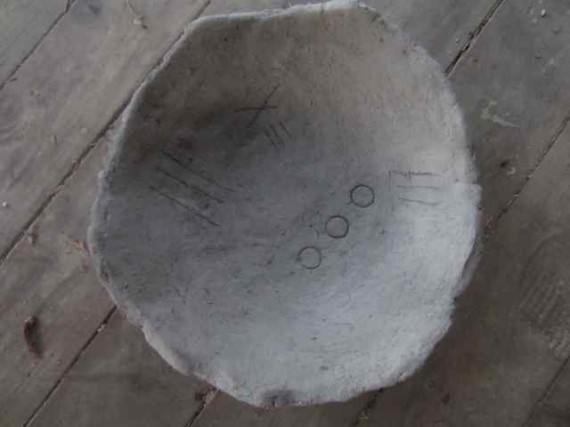 This is the bowl. It's about 14 inches across. I'm toying with the idea of doing some encaustic on this.
But I can't do anything to these for at least another week, until the material cures to a certain level. I'll show you when they're done.
Meanwhile, be sure to check out Debora's website. If you missed it up top, here's the link again. Her work is fabulous! Seriously. Sculpture and encaustics.
And if you're anywhere near northern California during the first two weekends of October, check out the the Open Studios Tour of Western Nevada County. Deborah and I are both on it and we'd love to see you!