Me! Me! It's ALL about me!
Hello. I'm Susan. I'm an artist and right now my preferred medium is, well… all of them. At the same time. The technical term is Mixed Media. Sounds much better than short attention span, don't you think, although that's also an accurate definition.
I didn't set out to be an artist. I set out to be my big sister. Either one of 'em, I didn't really care which. I was desperate because, quite frankly, being the youngest sucked. They got all the perks and I had to go to bed early. And they bossed me around.  Constantly.  This song was written for me. Or could've been.
But now that we're all grown up, I'm wiser and  would never trade places with my sisters.  Mwah-ha-ha. Not. At. All. Because they're old. Did I mention how much younger I am?
That's us down below.  I'm the cutie-patootie on the right, the one in pigtails. The one in COLOR! COLOR! COLOR!  My sisters pale in comparison. Actually, they  pale with a simple iPhone app called ColorSplash. Easy-peasy to use. That's the first of many tricks I will be sharing on this blog.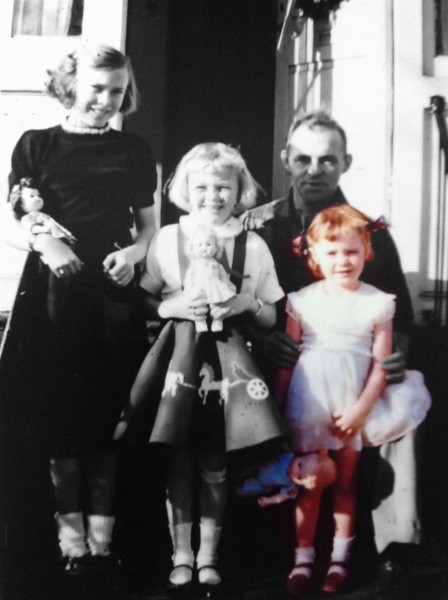 When I was in school I was always the kid who drew pictures in class. On the desk. In my notebook. I, umm, didn't pay much attention to things that bored me. Like math. That's why I majored in art when I went to college.  No math, lots of boys and I could draw all the pictures I wanted.
And wear torn jeans before they were fashionable, date boys with beards and be…arty.
And then I graduated with an art degree.  I'm sure that helped me get the first of many food service jobs. In fact, I'm almost positive. I did the waitress thing for awhile before working my way up the under-employment ladder to the frame shop thing, the graphics thing, the I-will-draw-anything-for-money thing. Eventually I married Mr. Spouse, had kids and did the mom thing. Then I did the teaching thing. Art, of course. Which I'm still doing.
Except for an attic full of their crap stuff, the kids are basically out of here now and I'm thinking it's time to get serious about the art thing once again. So here I am. Welcome to my blog where I will touch on a little of this, a lot of that…the day to day decisions, observations, experiences and actions that all add up to–ta ta–living the arty life.
Oo la la!